A couple of days back i was a contender at the ASA X Wacom "design battle" in Amsterdam.

So how did i do?...

3rd! I was really pleased with the result, i won me a pwetty neat Wacom Bamboo A4 tablet... Thanks again Wacom and ASA!
How did the battle go?

The actual battle was different then my expectations, the design challenge was to reskin an existing model of a larvae like creature. This posed a couple of challenges. First of the shape was set, so everything you did had to fit in the existing boundaries. Secondly making the creature design different, the general concept of the creature was hard to change. I tried to give the creature another feel by making the creature's "real" face somewhere else and use the existing head as a decoy head for possible predators.. or so was the idea.
The "Battle Arena" was an amazing place, we were seated in the middle of the room surrounded by big screens that showed our work in progress... Perhaps the best things of all was the live audience, of course you can do a sort of Livescreen showoff, but having an audience adds a great deal of atmosphere.
The time to redesign was about 1 hour and a couple of minutes.. during the battle time itself felt like it was frozen and i could do everything i wanted.(at least all the stuff i aimed for) Still the pressure to produce was there so was the pressure of hard competition. At the end of the hour and hard work/concentration i achieved this.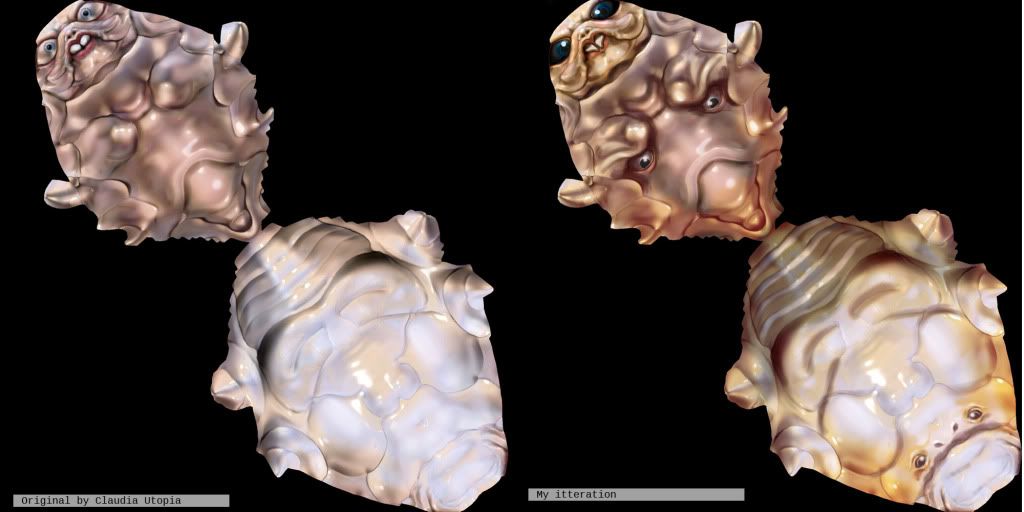 The final result next to the original

I had a blast doing this and i hope to see more events like this. Its a good thing for the digital artist were they can show that it isn't just Photoshop, also the audience gets a peek into the world and the workflow of an artist.





Cheers,

Joas Kleine